3,200 served • 98 did not return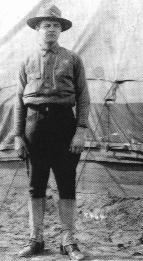 A typical Doughboy, Fred Glenn represents all those who served in the First World War. He trained in this country and fought in France.

Glenn returned to New Castle after the war.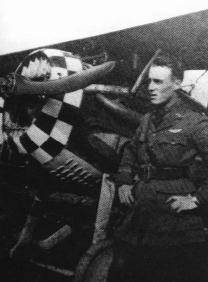 Before moving to New Castle to become an industrialist and a powerful political figure in local, state and national Republican circles, Roger W. "Cap" Rowland was a hero in his hometown of Springfield, Massachuttes. An aviator in the skies over France, Rowland was credited with shooting down three "Hun" planes and unofficially with downing nine others. <br><br>A flight leader with the 27th Aero Squadron of the 1st Pursuit Group, he was the only member of his flight of eight left in the unit when the war ended. Six had died when shot down and one was downed and taken prisoner.
His hometown newspaper reported:
"In his first encounter with the enemy in early August, 1918, he single-handedly attacked a balloon five miles behind the German lines in the Chateau-Thierry sector and, in turn, was attacked by five German planes, dived on one of these, a Fokker machine, sent it down in flames, fired at the other machines, holding them at bay and reached his own lines in safety."
He was on the front four months. In the last two months of the war, Rowland, a lieutenant, fought in 15 air battles.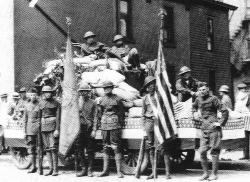 Army veterans of World War I relax while waiting for a parade to begin.
© Copyright 2005 • Lawrence County Historical Society. All rights reserved.